Forget about problems, focus on enjoying yourself.
If what you are looking for when hiring your vacation is not to worry about anything other than enjoying yourself, the 'all-included' regime is made for you.
It also includes one entry per person and entrance to the hotel's spa (over 14 years old).
You enjoy and we take care of the rest:
If you like to eat something different every day and never run out of food on your plate, at Advise Hotels Reina you are in good hands.
In our restaurant with show cooking you have breakfast, lunch and dinner.
Buffet type!
You're thirsty? Don't worry, at Advise Hotels Reina you have soft drinks, wines and spirits at your disposal in our bar-cafeteria.
A complete beverage service so that you can try something new every day.
Drinks schedule: 10:00 a.m. to 11:30 p.m.
We want you to feel at home. At home sometimes you want to snack between meals. Here you can also do it.
Enjoy a snack in the cafeteria or order an ice cream of your favorite flavor to refresh your day.
· Snack hours: 10:00 a.m. to 11:00 p.m. except when the restaurant is open.
Ice cream schedule: 10:00 a.m. to 8:00 p.m.
RESTAURANT WITH FREE BUFFET
A gastronomic experience based on quality and variety.
Forget about cooking and enjoy a Mediterranean diet with show cooking: our chefs prepare your dishes live for you to eat freshly made.
In our buffet restaurant we serve breakfast, lunch and dinner . (* We have gluten-free options.)
In addition, we have open the bar-cafeteria with a games area! The little ones also have their place, a miniclub.
The menu changes daily so you don't get bored during your stay. We have a rice area: a vacation without paella is not a vacation. And to alternate healthy food, since they key is in the balance we have a pizza area: indulge yourself with the children.
*Accommodation regime: breakfast, half board, full board * They do not include drinks.
Your moment of disconnection
Do you know all the benefits of going to a Spa?
On a physical level it relieves all your tensions and on a psychological level it raises your level of relaxation.
Any day of your vacation you can allow yourself access to our small Wellness area for only € 5 *:
Turkish bath, 2 jacuzzis, a sauna and unheated pool in summer.
If you prefer to play sports to not miss a beat, you have a gym at your disposal.
Come by reception and we will inform you! Give yourself some time to disconnect, you deserve it.
*The tour lasts 1 hour. Spa Hours: Mornings from 10:00 a.m. to 2:00 p.m. and afternoons from 4:00 p.m. to 8:00 p.m.
TWO AREAS OF OUTDOOR POOLS AND ... SLIDES!
Have fun like a kid and relax in equal measure
After having breakfast at the buffet and considering whether to go to the beach, the spa or the pool, you choose the pool. What is your surprise?
There are two zones!
A quieter pool in case you want to spend the day in a hammock sunbathing while you drink a margarita and another pool with slides for children to run around and make friends while you sunbathe and… order a margarita.
Pool hours: 10:00 a.m. to 8:00 p.m. uninterruptedly. · Slides schedule: 11:00 a.m. to 2:00 p.m. and 5:00 p.m. to 8:00 p.m. At noon the slides will be closed to respect rest. The minimum height to use the slides is 1.20m.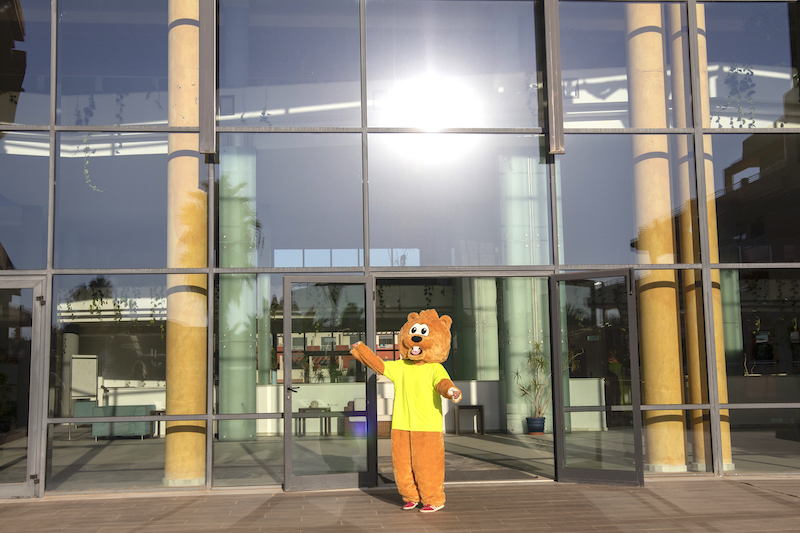 For all audiences and different shifts
How many times have you been told that you are the life of the party? Show it next to your family. At Advise Hotels Reina we offer activities for all types of audiences: adults, adolescents and children. We do it for three shifts: morning, afternoon and night. The activities rotate.
Also…
We have a lovely pet! A beaver named Reinaldo who will become the best friend of your children, and who knows, maybe of parents too!
EXTERNAL SERVICES ONE STEP AWAY
Supermarket, doctor, post office, souvenirs ...
Are you in a bit of a rush? You don't want to go too far?
We have all the services you need just a step away from the hotel: a supermarket in case you want to do the grocery shopping, a souvenir shop for the gift that you remember to buy at the last minute, a post office and a Social Security medical center that opens in August for any questions or emergencies.
If you need anything else, we will kindly assist you to help you find it
Protect your vehicle and forget about looking for parking
Protect your vehicle and forget about looking for parking
If you are one of those people who is exasperated by looking for parking and prefers to leave your car safely, at Advise Hotels Reina we offer you a closed paid garage.
* Check the rates by contacting us
DO YOU HAVE IT CLEAR? AT ADVISE HOTELS REINA WE ARE WAITING FOR YOU.
Choose the option that best suits your taste
it's a normal day of your vacation ...
It's a sunny morning in Vera, you wake up without an alarm clock, it seems like any other day but at Advise Hotels Reina we make it totally different from the previous one.
All these options are waiting for you at the Aparthotel Reina to make your vacation an unforgettable memory, with less worries and more entertainment:
If you have any questions, you can visit our frequently asked questions section or contact us directly, we will assist you and solve all your doubts visit